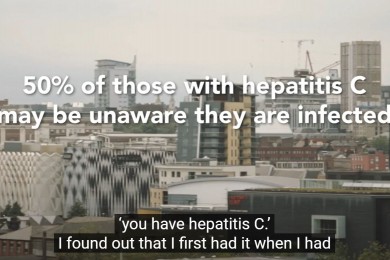 A short film made by Humankind workers in Forward Leeds has come second in an international competition organised by the Coalition for Global Hepatitis Elimination.
"Don't Live in Doubt" encourages people to get tested and treated for hepatitis C. It uses the testimonies of those who have been cleared of hepatitis C to emphasise how treatment has improved in Leeds and their lives changed.
Humankind Operations Director Lee Wilson said: "To be honoured in a global competition is fantastic. The film is a great way to get across to the public that treatment for hepatitis C now is much faster, simpler and with fewer side effects.
"We are finding our service users are going through to fully complete the treatment and there is now a 90% success rate of clearing hepatitis C. The film gets this over in a really powerful way and it's great that has been recognised by the Coalition for Global Hepatitis Elimination."
Humankind Marketing staff came up with the concept for the film and interviewed people about their positive experiences of being treated. The audio clips were then edited with shots of famous Leeds landmarks.
The film was joint second in the category Political and Civil Support alongside films from Uganda, New Zealand and South Africa. The film was originally made as part of a larger campaign created in 2019 to encourage people to get tested for hepatitis C and was made with support from the Leeds City Council, the Hepatitis C Trust and Leeds Teaching Hospitals NHS Trust.
Councillor Rebecca Charlwood, Leeds City Council Executive Member for Health, Wellbeing and Adults: "We are really proud to have been involved with this short film, which raises awareness of how easy it is to get tested and treated for hepatitis C, in Leeds.
"Prevention, testing and treatment of hepatitis C is an important part of the Leeds Drug and Alcohol Strategy, with the Don't Live in Doubt campaign also contributing to the wider global effort to eliminate this virus."
As well as online the film and on social media was shown regularly on the big screen in Millennium Square in Leeds city centre from December 2019 to March 2020.
The improved treatment for hepatitis C is delivered from a range of sites across the city including the three Forward Leeds hubs.
The Coalition for Global Hepatitis Elimination was launched in July 2019 by the Task Force for Global Health (TFGH). Modelled after other TFGH disease elimination programs, the CGHE provides services to assist the planning, implementation and evaluation of national and sub-national programs to eliminate hepatitis B virus (HBV) and hepatitis C virus (HCV) transmission and disease.
To see more on Hepatitis C at the Forward Leeds site,click here.
To see the film on YouTube, click here.