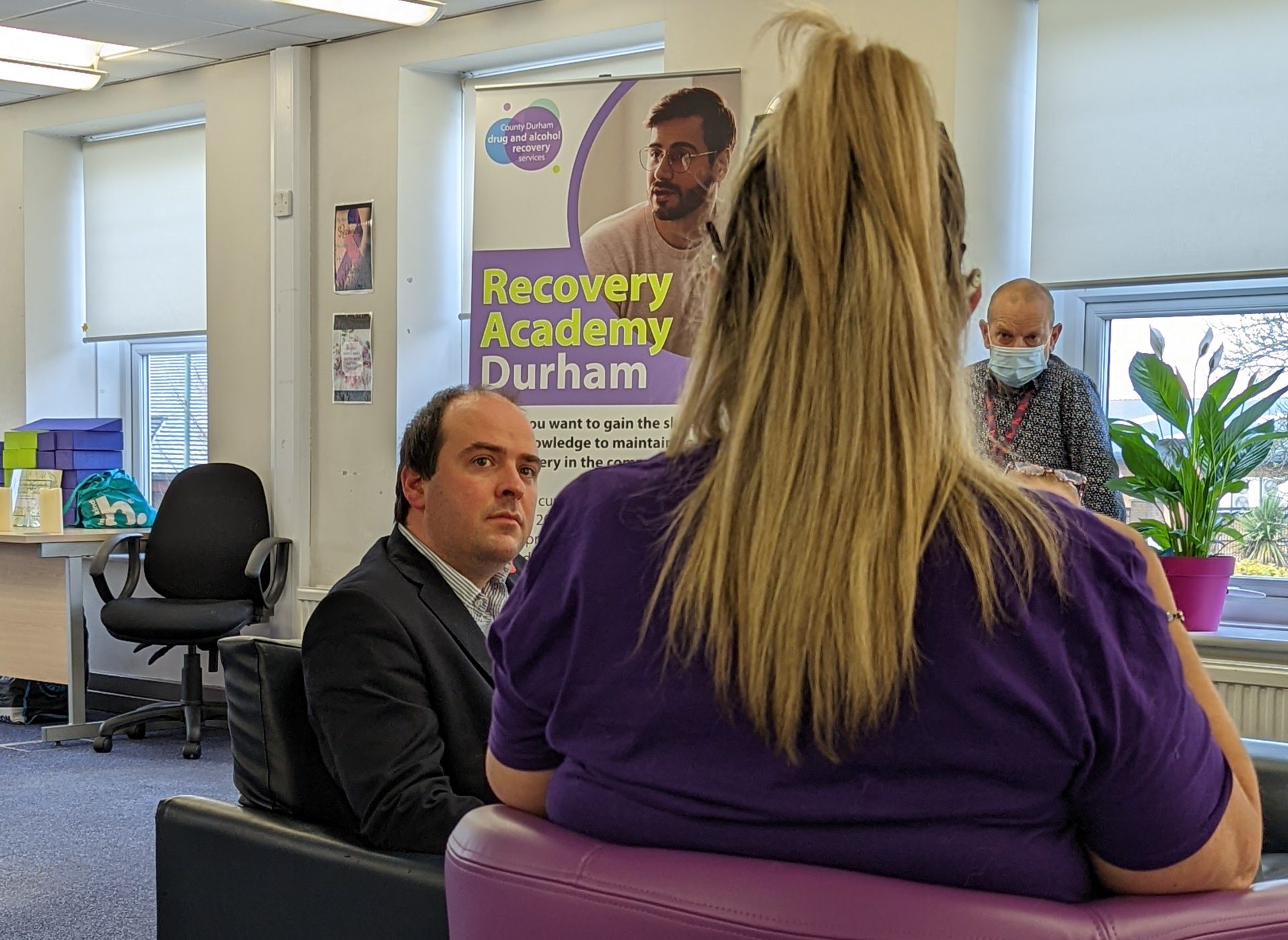 Ahead of Alcohol Awareness Week, which started yesterday, Richard Holden MP visited an innovative substance use support centre that is helping local women recover from drug and alcohol use.
The visit to Humankind's Women's Recovery Academy provided the North West Durham MP with the opportunity to speak to people who use the service and find out more about the evidence-based programme they are part of.
The service, which is funded by Durham County Council, supports women through a 12-week programme that helps them gain the skills and knowledge to maintain their recovery in the community.
The programme includes behaviour change techniques, such as motivational interviewing and cognitive behavioural therapy skills, as well as offering peer-to-peer support which helps people learn from others who have been through the programme and are who are doing well.
"It was great to visit the Women's Recovery Academy in Consett", said Richard Holden MP. "It is vital that our local services are there for people who are facing real problems in their lives. What was especially brilliant was to meet some of the women on the ground who have faced their issues head on and are now helping others on their path to recovery."
"I want to thank Humankind for the role they play in making positive changes for better-connected communities across North West Durham", Mr Holden added.
Louise, who received support from Humankind's drug and alcohol recovery services and is now volunteering with the charity, spoke about her experience of alcohol use: "I was a functional alcoholic with a 40-year drinking history. Being in my 50s I was embarrassed to ask for help but I've been sober for two years now, with a purpose and new outlook on life.  If I can do it anyone can do it – seeing is believing".
The Women's Recovery Academy is one of several Humankind services that operate in the County Durham area and currently they are supporting a combined total of more than 1,850 people with their drug and alcohol recovery.
"It was a pleasure to welcome Richard Holden MP to the Academy today and showcase the impact that thriving community programmes, such as this one, can make in helping people continue their recovery journey", said Paul Townsley, CEO of Humankind. "With ever increasing rates of drug and alcohol use, the need for well-funded, comprehensive support services such as the Women's Recovery Academy is greater than ever, and we hope that this service can continue to grow."
Humankind is one of England's drug and alcohol recovery providers and every day 12 people complete treatment within one of their free and confidential services. In addition to substance use programmes, the charity also provides housing, support for people experiencing or at risk of homelessness, and assistance with work, training and skills.
To find out more about Humankind's services in your region visit www.humankindcharity.org.uk.