Lesley's volunteering story
Volunteering is now my everyday and will be a life long thing.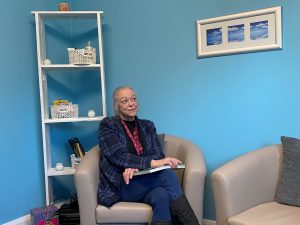 Name: Lesley
Volunteer location: The Greens, Sheffield
I found out about The Greens through the Sheffield Recovery Forum. I'd been in addiction for 20 years, alcoholism, and have been through various detoxes but was never offered anywhere like The Greens.
My life went downhill, fast. As a result I've grown a hard shell. At the time, I didn't realise how much I was affected by alcohol. I knew I needed to work on my mental health. The last part of the puzzle was the hardest one, but I've dealt with it through counselling.
Three and a half years ago I did a home detox, I was determined this time to do whatever it took to stay sober. The support I got was different. I had counselling, attended support groups and listened to people. I got  a lot from listening to others.
I was volunteering somewhere and decided it would be good to experience other volunteering too. I was encouraged to volunteer in housing and alcohol services. My volunteering wasn't just about getting back into work, it was knowing what I was good at and the realisation I had a chance to live again. I could be resentful about many things, but I'm not.
I've found myself. Now, I enjoy doing meditation, breathing exercises, walking, talking to my dog and baking!
Every Sunday I bake for the residents at The Greens. Everyone likes a jam and coconut sponge or traybake. I always make my own custard, it's never shop bought! The residents and I cook a Sunday dinner and then we all sit together to eat and talk. I also support in the groups there.
The people at The Greens are a joy to be around. I'm so comfortable. Everybody sticks together, it feels like I've been here forever. I plant seeds with people. I have found my voice.
Volunteering is now my everyday and will be a life long thing.