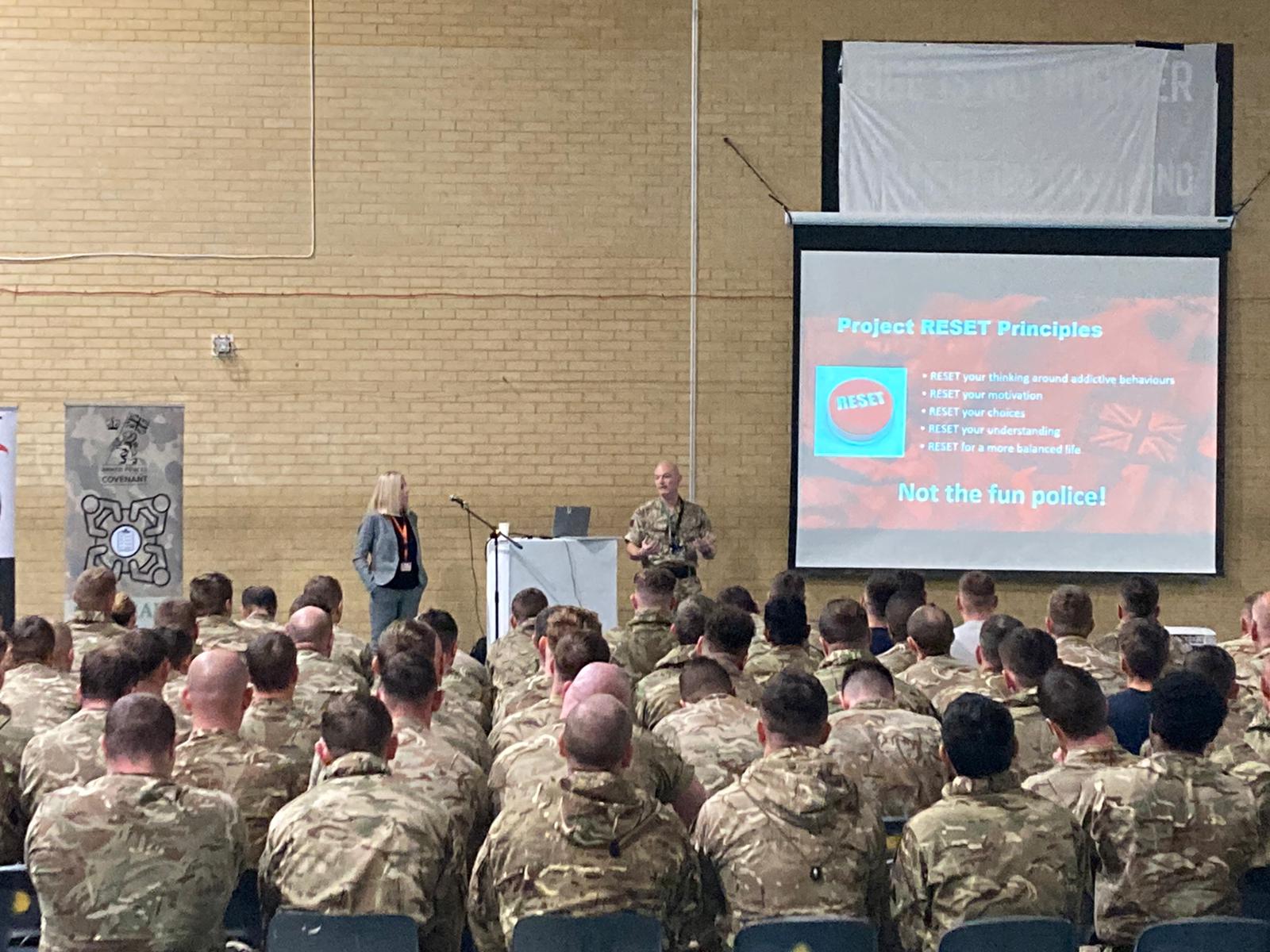 Project Reset – a scheme delivered by Humankind to help soldiers in North Yorkshire recover from problematic alcohol use and gambling – has received further funding from the British Army to continue its important work for another year.
The project, formerly named Mil-SMART, was developed by Humankind and Smart Recovery in 2017 to offer support groups for soldiers in Catterick Garrison.
Initially, it was self-funded by Humankind, but its success over the years has proved to the British Army its value to the health and wellbeing of personnel.
Soldiers who require further one-to-one support or medication after accessing Project Reset's support groups are offered a referral to North Yorkshire Horizons, Humankind's specialist drug and alcohol recovery service based in the region.
Seventy-nine per cent of serving personnel who accessed support for their alcohol use were successfully discharged as alcohol-free or controlled drinkers, compared to a national average of thirty-eight per cent.
In addition to supporting nearly 100 soldiers to date, Project Reset also offers education outreach and harm reduction training across multiple locations.
Project Reset facilitators, Ruth Hasney and WO2 John Reynolds 4th Brigade, also run a closed Facebook help group and monthly walk and talk events for serving personnel who feel they need extra support after successfully engaging with the scheme.
WO2 John Reynolds, who has previously accessed Project Reset himself, said: "The desire and need for this service continues to grow. We continue to see fantastic outcomes and feedback we have received from soldiers indicates that, without our support, they would have left the army or ended up in trouble due to their problematic substance use or gambling.
"Humankind continues to work with the Armed forces to improve access to specialist support for recovery from alcohol use and gambling, with a vision of rolling the North Yorkshire project out on a larger scale across England."
The recovery scheme has also garnered praise from the British Army for continuing its support even through the UK's lockdowns.
Utilising video conferencing for groups and one-to-one support – introduced during the UK's pandemic lockdown measures but still offered as one part of a holistic support approach – means accessing help is easier for soldiers, particularly when they are away on an exercise or on leave.
This innovation led to further expansion of Project Reset across the North Yorkshire area, with three additional bases, Topcliffe, Dishforth and Alanbrooke, now able to access support for their personnel.
Craig Bosomworth, Project Manager for Project Reset stated: "The work and passion our team of specialist recovery workers puts into this project is fantastic. Without their energy and focus, it would not have supported as many soldiers into recovery.
"The need across the military community has always been there, but now that this project is becoming more embedded within the army and tri services, there is great potential to expand this blueprint much further."
If serving soldiers want to access support from Project Reset, they can do so by emailing project-reset@humankindcharity.org.uk or speaking to their commanding officer.