Michelle's volunteering story
Michelle is a Group Facilitator Volunteer at the aftercare service for Forward Leeds, 5 Ways Recovery Academy.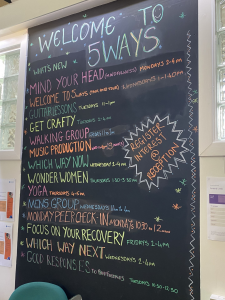 Name: Michelle
Volunteer role: Group Facilitator
"Every Wednesday I host a group called 'What's Your Story?'. Clients are invited to develop their own recovery story to share on our new website – Recovery Wrx. Recovery stories have the potential to educate, inspire and offer hope to others and I am so proud to facilitate this.   
It's up to them what and how they share. It could be a poem, a song, an interview or perhaps a piece of art they've made.  Aside from that, no two days are the same. I might be having a cuppa and chatting to people about activities at 5 Ways, identifying and organising group activities for them, or supporting staff with a project. I love the variety!
"I feel valued and part of the team here at 5 Ways. Volunteering gives me a purpose for something meaningful – being able to help and support others in recovery. It gets me up and out of the door, so by helping here, I am also helping myself. I am further along in my recovery journey but being here serves as a reminder not to get complacent because I will always be in recovery.
"It's a team effort here but it's incredibly humbling when clients say things like, 'this is the first time I've been able to speak in a group setting' or 'I really enjoyed this session, I'll be coming back.'  5 Ways changes lives – it changed my life – and I feel privileged to be involved.   
Visit our volunteers page to find out how you can get involved at Humankind.