Christine's career journey
Our innovative Individual Placement and Support (IPS) service helped Christine find stable employment, despite two prior minor convictions. Read her full story below.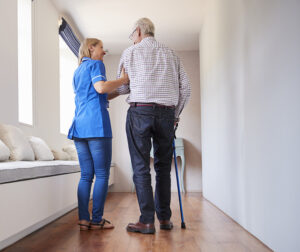 Christine had always enjoyed working so when she was without a job she found herself getting bored of doing the same thing every day and, without the structure that work provided, was overthinking and worrying a lot. Fortunately, her Recovery Worker at Humankind's South Tyneside service put her in contact with an IPS Employment Specialist who could help.
Christine met with Danielle, her Employment Specialist, and told her about the sort of job she would like the do and the hours she'd want to work, as well as discussing what had gone wrong with work in the past. With Danielle's help, Christine updated her CV, searched for jobs and worked on applications.
Danielle also spoke to several potential employers and set up a two-day trial in a school kitchen and an interview at a care home. Before the interview, Danielle met with Christine to run through possible questions that might come up and help to put her at ease – and it clearly worked as Christine got the job!
Since Christine started working at the care home, she's chatted to Danielle most weeks and has received help with e-learning, as well as support to use the Universal Credit portal and make changes to her benefits. Even when Danielle was on holiday, her colleague Adam was available to help Christine with any issues she encountered.
Speaking about her experience with IPS, Christine said: "All of this has changed my life for the better. I'm busy now and I'm making my own money and learning new skills. I love interacting with the residents in the care home and I feel good knowing that I'm helping others.
"The support I received once I started work was really useful as without it, I may have ended up quitting because of any small stress factor. I'd definitely tell anyone to get help from IPS as the support is ongoing and unlimited so you'll be more likely to get and keep a job."
It is now Christine's goal to secure a permanent part-time contract, to stay abstinent from alcohol and manage her anxiety.