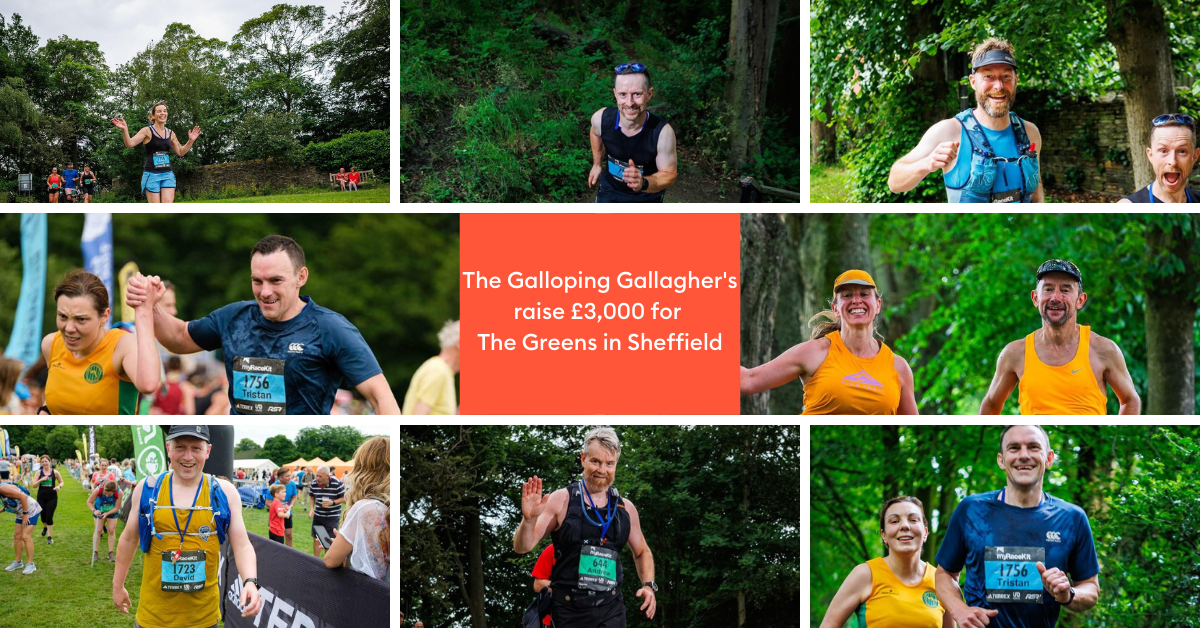 In line with the third year of Humankind's United for Fair Chances (UFFC) – the chance for individuals and groups to raise money for many aspects of our work, including our vital Service User Fund – we're sharing the incredible story of The Galloping Gallaghers. 
Friends of beloved Stefan Gallagher ran 24km up and down the hills of Sheffield to raise an incredible £3,000 for The Greens in Sheffield, our recovery-focused accommodation. 
Recently, the group who call themselves The Galloping Gallaghers challenged themselves to complete the Round Sheffield Run and raise money for The Greens in memory of their friend, Stefan Gallagher. 
The service previously supported Stefan, and in return, the group have been fundraising to show their thanks and help them to keep supporting many other people.  
The team were also joined by team members from The Greens Sheffield who also completed the Round Sheffield Run  
The Galloping Gallaghers raised a total of £3,000 which has all been dedicated to the service. The staff members and residents have been talking about the use of the money raised, including talks of a defibrillator on site and some adventures to the beach and Peak District. 
Alongside the many donations were some heartfelt messages, including one from Stefan's Dad, Sean Gallagher: "Good luck guys and thanks so much for keeping Stef's positive spirit and memory alive and helping to raise money for a great cause. He would be proud of you all, just as I am." 
Thank you to The Galloping Gallaghers for your hard work and dedication. All funds raised will be a huge help to the service and Stefan's spirit will live on.  
The Galloping Gallaghers are:  
Julie Bicknell
Tristan Clarke
Garan Comley
James Coulson
Jim Danson
Katja Danson
Andy Dixon
Fran Garretty
Jaime Gray
Dave Hollinshead
Clare Kendall
Anthony Major
Ben Mooney
Sally Mooney
Ben Morton
Christina Shipley
Graham Wilkinson
Bill Young
Georgia Young
During United for Fair Chances we have members of the Humankind team completing numerous fundraisers which we will continue to share, if you would like more information on fundraising activities or how to donate, please visit our  Fundraising events and initiatives at Humankind.