Ben's volunteering story
"Go for it! It is such a rewarding experience once you get into the swing of things and find out how you can help people. Everyone has so much to offer, and Humankind helps you find your feet."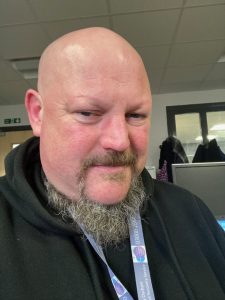 Name: Ben Fidler
Volunteer role: Group Facilitator
Why did you start volunteering with Humankind?
I first heard about Humankind from a GP, and I then went through the RAD with County Durham Centre for Change. Once I had finished this and felt back on track, volunteering seemed like a natural step. I wanted to come back to Humankind and share my experiences as I believe that if you can be open and honest with people it will remove some of the stigma. Going through and then volunteering with the RAD changed my outlook on life and changed me as a person, so I want people to know that needing support doesn't have to be the end of your life.
What was your volunteer role and what skills did you gain as a volunteer?
At first I did a lot of shadowing, and when I settled in and people saw my skill set we decided on me facilitating groups within the RAD and online. I also got to worth with one client from his first week all the way through until his graduation, which was so rewarding. Sometimes the role could be a little unpredictable, but people always supported me in finding out what I wanted to do and how I could move forward. All of this made me feel much more confident, and I started helping out with some groups outside of Humankind too. All of this was something I never thought I was capable of doing, and the volunteering role came at the complete right time. Two years ago, I thought I would never work again. My self-esteem was so low when I started but going through recovery and then volunteering felt like such an achievement. I realised I could make a difference and I felt such an increase in my self-worth. A personal highlight for me was when someone in one of my groups told me something I had suggested had really worked for them, things like that made everything seem so worthwhile.
When did you start working at Humankind? How did that come about?
One or two workers said I would be perfect for a job there, which gave me a real confidence boost as it came from people who saw me at my lowest. I was no longer ashamed about what had happened to me, and my skills had grew from both the RAD and volunteering. One staff member told me about the Recovery Team Peer Support Apprenticeship that had come about, and I thought this was perfect as it followed the natural progression of my journey so far and let me carry on building my unusual skill set. A full-time job had come up a few weeks before, however I did not feel completely ready and now I am so glad I waited.
How did you find transitioning from your volunteer role to employment?
It has been a continuation rather than a transition, and I have really enjoyed the gradual increase of responsibility within my time at Humankind. The improvements are exciting, and I really enjoy that now I get a bigger sense of completion with tasks. I feel like I identified the path I am supposed to be on, and I am loving it.
What does a typical day look like for you now?
I am now 3 weeks in, and it really varies from day to day! My usual tasks are to check through my emails, help out around the service, and continue to do my groups. The balance of going to different centres, having a client, and working with the college makes each day different.
What advice would you give to someone that's considering volunteering/working at Humankind?
Go for it! It is such a rewarding experience once you get into the swing of things and find out how you can help people. Everyone has so much to offer, and Humankind helps you find your feet. My main advice to anyone is always to just take your time, life is for living!
Visit our volunteers page to find out how you can get involved at Humankind.